Welcome to the Arabic Department at LSI!
Arabic, the most important cultural language in the south and east of the Mediterranean, the language of a world religion and one of the official languages of the United Nations is spoken by over 400 million people as a second or foreign language. More than 300 million people speak a dialect of Arabic as their mother tongue. In addition, Arabic has a fascinating written form that is an invitation to calligraphy and, with only 28 letters, is easy to learn.
Learning Arabic at LSI has been a success story for over 30 years! Whether for work, studies or private interest, in our language courses you will learn Arabic for everyday use, which you can immediately put into practice. The courses offered are flexible and adapt to your needs. Get into the fast lane and learn quickly in the shortest possible time in our full-day intensive courses. Or integrate the lessons into your everyday life and learn Arabic part-time or alongside your studies in online courses in the evening from home.
"The euphoria is huge because it is possible to make such great progress in such a short time."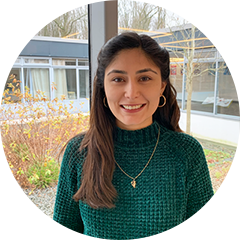 Dilara Kalayci
Student
An experienced team of German and native-speaking teachers teaches in the Arabic department with textbooks specially developed for the intensive course format. Arabic is used actively from the very beginning. Role-playing, discussions or the targeted use of media - varied lessons in small learning groups facilitate access to the language, strengthen motivation and make learning fun.
For all language levels
In our Arabic courses, the course units build systematically on each other, so that even advanced learners with previous knowledge can find a suitable course. We will be happy to advise you on which course is suitable for you.